Stand up comedy in Epsom
June 30 @ 8:00 pm

-

9:30 pm

BST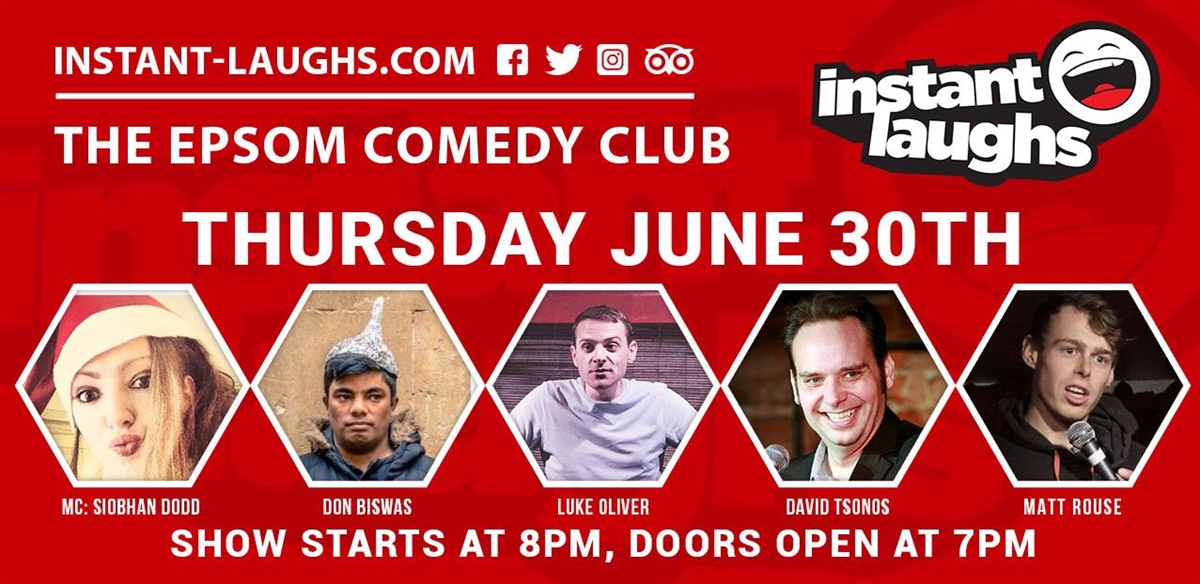 The perfect alternative night out at the Dia y noche lounge, a popular family run cafe and bar in Epsom.
Our shows are on the first Thursday of the month, where we bring an assortment of the best comedians from a wide variety of different perspectives. It is a truly mesmerising variety show, you will never forget. Our line up for this evening is:
Siobhan Dodd
A sign-language interpreter, who has an amiable nature that makes her a popular MC for many of the best comedy clubs in London.
Don Biswas
Don Biswas is one of the gems of the circuit. A politically charged gag merchant who likes to cover a wide range of subjects including his Asian upbringing, his range of disabilities (Dyspraxia, ADHD, Asperger's) and even the most important of topics.. conspiracy theories. Don has gained huge admiration off all corners of the circuit.
Luke Oliver
A quick, funny, charming and hilarious comedian who is storming gigs across London
David Tsonos
If you want serious comedy, David Tsonos is not your man. With his friendly and confident persona, he intrigues everyone with his combination of banter and impulsive comments. His comedy stems from being the youngest of five boys, babysitting… his nephews and his cat.
David started off in Canada and, since making the UK his home, he has performed in over 15 countries.
Matt Rouse
Matt Rouse was a semi-finalist in SYTYF 2019 and since then has gone on to perform at many of the top comedy clubs in London and across the UK. 'A hilarious alternative take on observation comedy'
A regular at City Comedy Club and there is a good reason, his smart comedy and energy gets the audience focused and all in on the night. Touring on many of the UK's best comedy clubs, Matt Rouse is a must watch.
Doors open at 7:30pm
Show starts at 8:00pm
Location:Dia y noche lounge, 39 The, Oaks Square, Waterloo Rd, Epsom KT19 8AS.
Tickets are £5, where they can be purchased on instant-laughs.com or on the door.