Sapphic Secrets (Dinner and Cabaret) Shhhhhh!
Sapphic Secrets (Dinner and Cabaret) Shhhhhh!
October 22 @ 5:30 pm

-

12:30 am

BST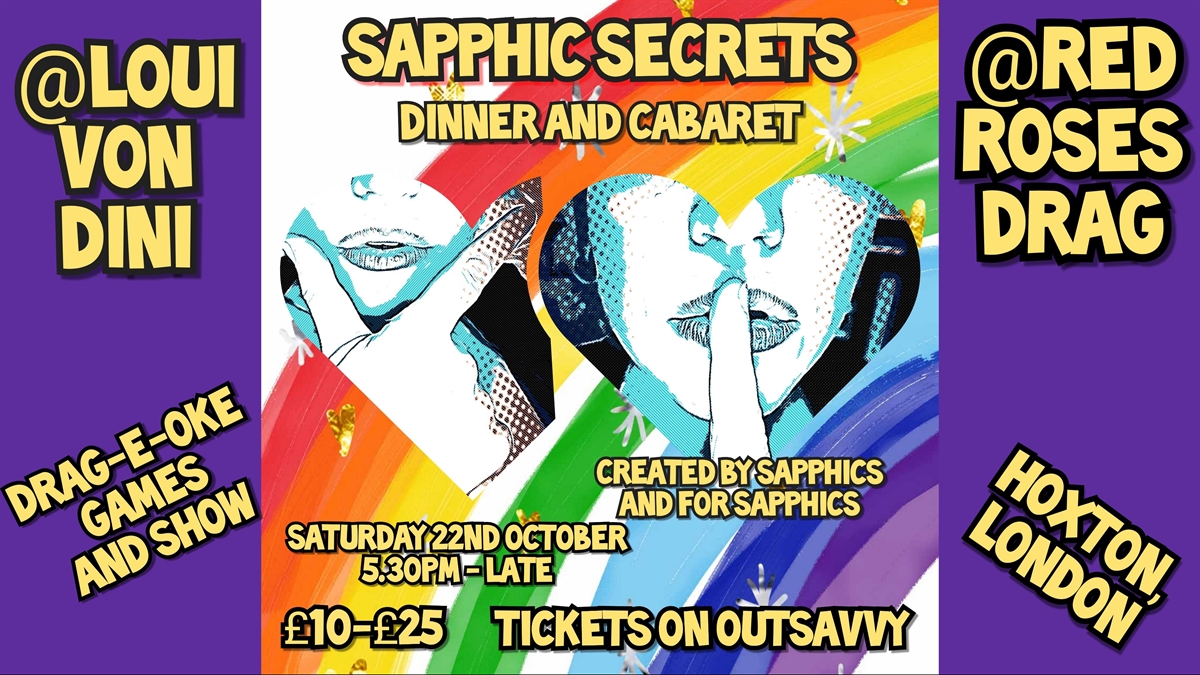 Secret Sapphic Dinner and Cabaret Night was created by and is specifically for womxn, non-binary and anyone of a Sapphic variety.*
Hosted by Loui Von Dini and Red Roses extraordinaires who between them have years of experience performing around the world.
Loui Von Dini serves magic, drag, and burlesque with dashings of general fun and naughtiness.
Red Roses serves comedy, drag, puppetry, keyboards, guitar, wordsmithery and out-of-this-world nonsense.
Drag-e-oke! Choice of two songs and the crowd picks and the crowd sings!
Games! Who host of fun and silliness in the form of games with audience participation and prizes to be won!
FOLLOW US ON INSTA:
@LouiVonDini
@RedRosesDrag
@RefuelYourSoul
DINNER is at the fabulous Hoxton plant-based restaurant. Book your food in advance with the following two options.
Plant-based Impossible burger, chips with a choice of drink. (Wine, beer or soft drink).
Plant-based Croque Monsieur and chips with a choice of drink. (Wine, beer or soft drink).
Dinner is optional however it is strongly advised to book in advance.
DOORS: 17:30 for dinner.
SHOW: 19:00
For those travelling from further afield please note the show will finish by 21:00 to enable you to get trains however for everyone else the bar will be open late!
CHARITY: We will actively support a different charity at each event. This month we are supporting Gallop who do amazing work with LGBTQ people who have experienced domestic abuse or violence. £1 from every ticket will go to the charity plus we will be actively fundraising on the night too. Find out more about this amazing charity here – https://galop.org.uk/
*Please note this event is not for cis men as there are a huge range of nights dominated by that demographic. We will likely do events in the future for everyone however on this occasion please do accept this decision. If you would like to be an epic ally to those attending please consider buying an ally ticket to be donated to someone unable to come for financial reasons or make a donation to our chosen charity which this month is Gallop and who do wonderful work with all genders.
See you there Sapphics!!!
It's a Sapphic Secret!!!!!
Shhhhhhhhhh!
TRAVEL: Nearest Tubes Hoxton (overground/orange line) and Old Street (northern line/black line Bank branch). Alternatively, a short taxi or bus ride to Liverpool St and London Bridge. Bike hire is available in the local area too.
ACCESS:
Wheelchair accessible and step free.
Service animals and pets are allowed but be aware the venue will be loud so as appropriate for the animal.
The front door is very close to the performance area (around 5-10m).
Accessible toilet.
BSL and/or audible description can be made available for the show if required please let us know with as much notice as possible and we will make every effort to arrange this.
A small quiet area will be reserved for anyone needing such a space.
The nearest official blue badge parking space is a few roads away however the venue have offered to reserve a space outside for blue badge holders should it be required.
Carer ticket available if required please DM @RedRosesDrag with ticket info to book. Unfortunately this would exclude food however additional food can be purchased for £15 if booked in advance and subject to availability on the day.
If you cannot afford the night please contact us as we will have a number of tickets for those that would benefit.
If there any other things we can do to make the night more accessible please message us and we will endeavour to do what we can please DM @RedRosesDrag on instagram.
DIETARY REQUIREMENTS:
All food and drinks are plant based and/or vegan. Please DM @RedRosesDrag with any additional dietary requirements.