Queer Diary
June 30 @ 7:00 pm

-

9:30 pm

BST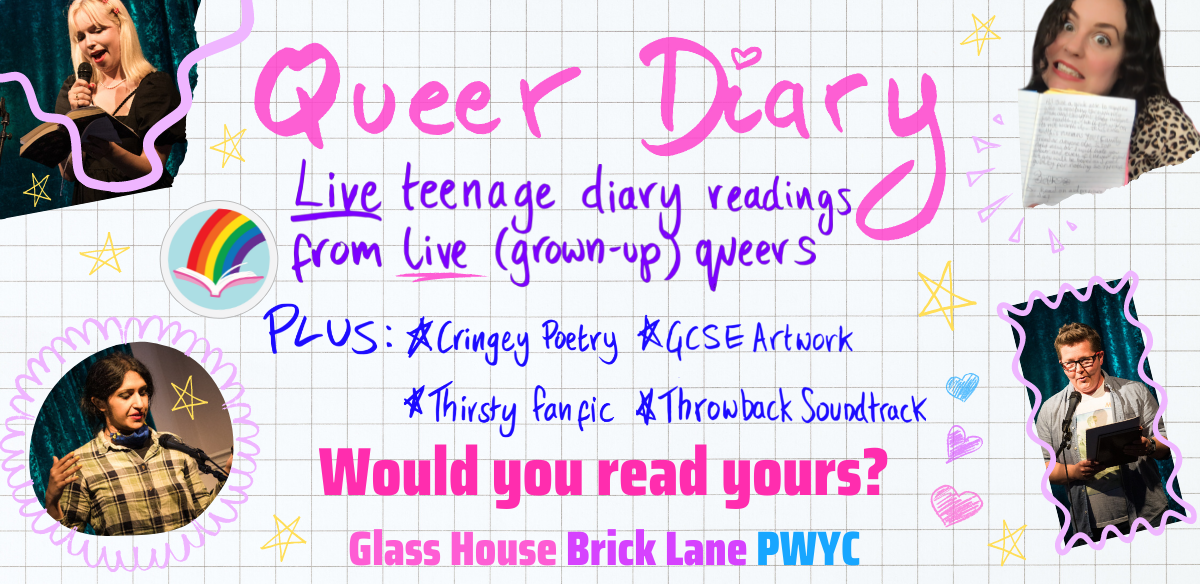 Would you read your teenage diary aloud to a room full of people?
A brave group of LGBTQIA+ folx are doing just that at Queer Diary – the night where queers share our teen angst (and joy, dreams, follies, and fabulousness).
We can't promise to reunite you with your first crush, but we do aim to reignite that rush of adrenaline you got when they first noticed you. Join us in a cosy teenage dreamworld, where we share what was obsessing us all those years ago.
In here the goths, the punks, the emos, the nerds, the glee-clubbers (and maybe a few populars?) come together as grown-ups, to escape cis-het-normativity by sharing our younger selves' innermost thoughts via old diary entries, fanfiction stories, tumblr posts, and possibly the odd bit of cringey poetry!
💋
Tickets to this event are PWYC, with profits split between funding this project, and a supporting community organisation that works for LGBTQIA+ young people & education.
To find out more, or take part in Queer Diary by reading your teenage diaries (or poetry, or fanfic etc) check our FAQs & get in touch via the Sign Up form.
For updates on more upcoming Queer Diary events & activities, follow us on social media:
If you have any questions or concerns, please email Beth (host) & Josie (producer) at: Hasbianshow@gmail.com
🌈📖
How the event runs:
Anyone wanting to read can sign up via this link.
We often have slots available last minute. Feel free to let us know if you decide on the day that you have something to share!
Queer Diary is hosted by Beth Watson, who will warm up the crowd by sharing some teenage diary entries and chatting to the audience about some of your fave nostalgia moments.
We also take song requests of teen throwback tracks to play between readings!
We usually have 2-5 readers per evening, with a couple of breaks where we'll put on our specially co-curated playlist & the audience can top up drinks, share their own memories with their mates, etc.
Doors open for the audience at 7pm, and readings happen from 7:30-9pm, with time to stick around after and enjoy the vibes.
Who's it for?:
Any LGBTQIA+ adults can volunteer to read something from their youth on the mic (please read the FAQs & sign-up form for more info).
Please note this event is themed around memories of teenage years gone by, and is aimed at adult audiences.
All LGBTQIA+ people and allies are welcome in the audience. This is a LGBTQIA+ centred space in a queer-run bar, where all identities are welcome, and discrimination of any form will not be tolerated.
Location & Access:
Common Counter is one of three spaces at a venue called Glass House. It is a ground-floor bar with a relaxed atmosphere and cabaret-style seating. The entrance is via a large glass door on the corner of Brick Lane and Bethnal Green Road, which is a busy area with lots of shops, bars and cafes.
Linked here is a picture of inside the venue.
The nearest stations are Shoreditch High Street and Bethnal Green. The postcode is E2 6DG.
Find the venue on Google Maps.
Accessible parking is on Red Church Street, which is about 2 min from the venue.
The venue has step-free access for audience with an accessible toilet. There is one 6-inch step up to the stage.
All toilet facilities are gender neutral.
We ask all readers on stage to self-describe for any blind or visually impaired audience members.
Seating is unreserved as standard. Please let us know via email if you would like us to reserve a seat, and if you have any specific access requirements we can accommodate in doing so (ie, near the front, near the bathroom, etc)
Dogs are welcome.
There is a quiet area in the Common Press bookshop/cafe, adjacent to the bar (there is strictly no alcohol allowed in this area).
Please get in touch via hasbianshow@gmail.com if you'd like more information on this event, or if there's something else we might be able to do to make Queer Diary more accessible for you.
If you have questions about the venue you may prefer to contact them directly via https://glasshouse.london/
COVID Safety:
Audience are encouraged to take a lateral flow test before attending.
We also encourage you to wear masks when you're able to do so, particularly when out of your seats, ie visiting the bar or bathrooms.
Common Counter at Glass House is a high-ceilinged, well-ventilated room, and we are capping ticket sales at ½ of its full capacity to allow for more space.
Event organisers are fully vaccinated and will lateral flow test during the week before the event, and on the day.