Kings of the Castle #3
March 24 @ 7:00 pm

-

11:00 pm

GMT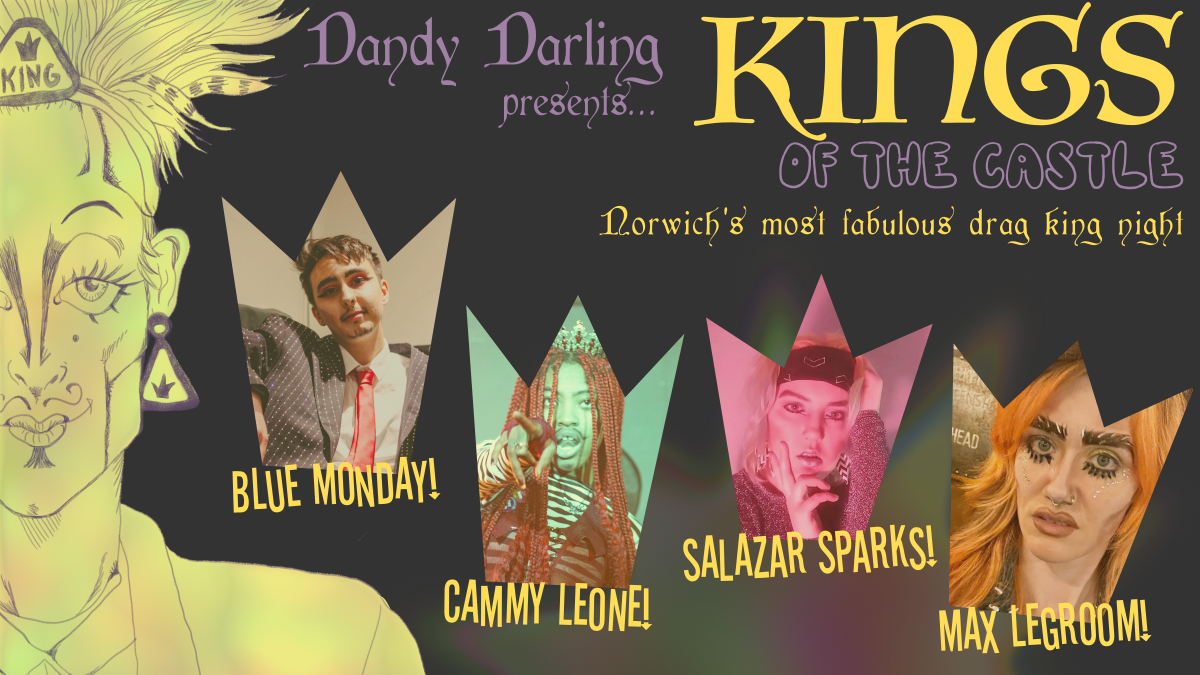 Welcome one and all – to the court of the KINGS OF THE CASTLE!
Come, take a seat at our round table and get ready for a mouth-watering feast of Norwich's finest Drag King talent in the third instalment of Norwich's first established drag king night.
Featuring the royally talented –
BLUE MONDAY – Blue Monday is a trans masc drag king who incorporates elements of burlesque and alt culture into his drag while also taking inspiration from the 80s (hence the name!)

CAMMY LEONE – He's one in a chameleon – introducing Norwich's favourite shape-shifter! He'll bring you energy, emotion and eye-popping looks – and tonight he'll be shape-shifting into a KING before your very eyes. This is one transformation you don't want to miss!
MAX LEGROOM – An extremely normal human man. He brings to you a unique and surreal stage presence, honed over years of cabaret work incorporating clowning and improvised comedy. His hobbies include doing the cryptic crossword in Sharpie pen, getting stuck inside a bale of hay, and cyber bullying his local chippy.
SALAZAR SPARKS – You're not seeing double, Salazar Sparks is back to stun. Taking the class out of iconoclast, this King of East Anglia is coming to storm the Castle. He's the glam rock King of Norwich, a short shock bound to get your blood pumping in all the right places.
And last but by no means least – your host with the most…local legend and the king of camp artistry – DANDY DARLING!

We'll also be opening the stage up for the Drag Kings in the audience, so c'mon local lads – show us what you've got! 🎩 There has been no greater time to rally for our Kings, so dress to impress and grab yourself a ticket to this right royal rumble! 🥂
Kings of the Castle is a safe space with a zero tolerance policy for racism, homophobia, transphobia, fatphobia, or ableism. If at any point during the night you are made to feel uncomfortable, please speak to Dandy and we will work to resolve any issues and/or remove offending parties.
Please note: Kings of The Castle will take place in the Unite Club through The Castle's bar area.
Come on in at the main entrance and head on through for the show!
A limited amount of tickets will be available on the door at £10.00 each. If you are on benefits, low income or would otherwise need a more accessible ticket to attend the show – please get in touch via email (kingsofeastanglia@gmail.com) or DM @dandy_darling on Instagram for a code to access these. No questions asked!
DOORS 7PM – SHOW START 8PM
We sincerely apologise that the Unite Club is sadly not accessible for wheelchair users. We are speaking to the venue owners to see if wheelchair access can be provided, so we will update this guidance in due course.
Please know that we are seeking accessible venues around the city to hold our events in, and any leads / information would be much appreciated.
To discuss accessibility / access needs or for any other questions please contact us at kingsofeastanglia@gmail.com
Purchase of General Admission to Kings of East Anglia provides free entry to the Loft NR1 Nightclub to continue your night after the show.