Guided Massage Exchange in Edgware
Guided Massage Exchange in Edgware
June 30 @ 7:00 pm

-

10:00 pm

BST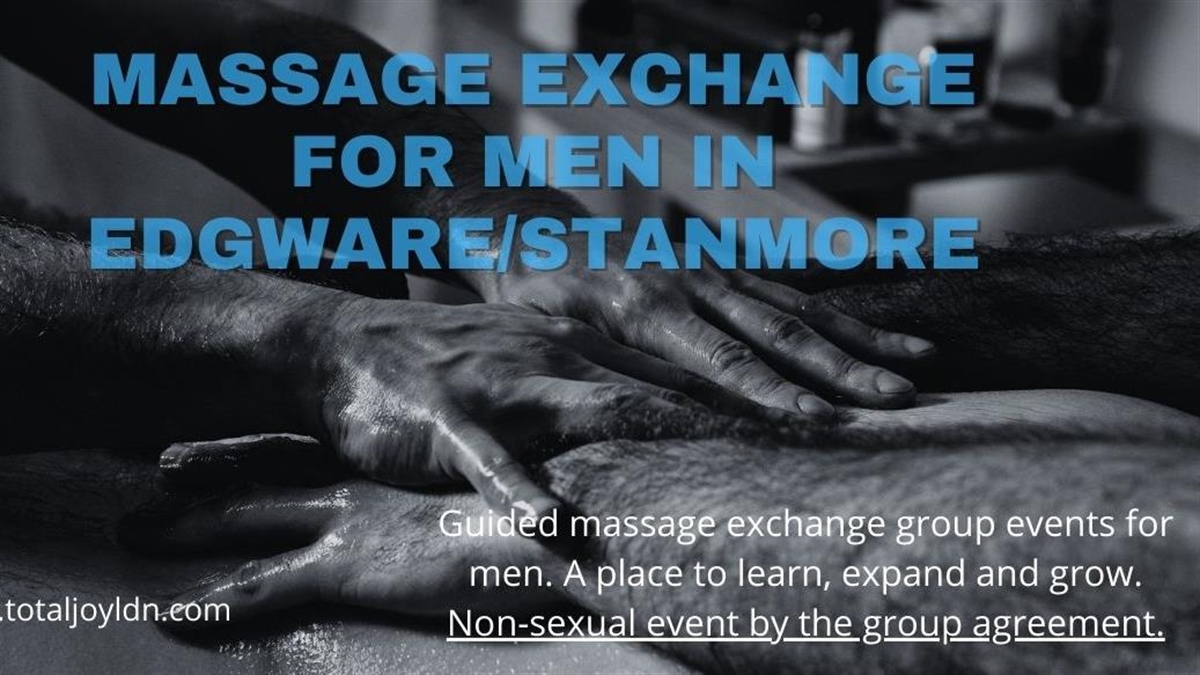 I am inviting men to learn to give and receive a massage in an environment where a particular group agreement occurs. We are coming to the class intending to share your touch in the best way we can. And also to receive with complete joy and understanding that most of the participants are learning not a technique but something more than that.
Due to the nature of the event in the first hour, we focused on the non-sexual and arousal side of the caressing and stroking entire body, including the genitals. Imagine caressing the soft to fully erect penis as a way you would caress any other part of the body. Does it make it sexual? It's not about touching – it's about intention or goal. In these events, anal fingering isn't permitted, only external touch.
As a recipient (the one lying on the table fully relaxed and with closed eyes), I will remind you to focus on the sensations you notice in your body and mind? And the second – your pleasure is your responsibility. And last but not the least main point – this isn't a tantric event. We follow mantra breath and movement, NOT breath, sound and movements. I have nothing against the Tantric Mantra, but quite often, when you as a recipient get to a non-ordinary state of mind, and loud noises and voices around can distract you, if you are happy with a touch you receive, especially when you are enjoying it.
The second and the last hours bring more fuel to the fire. The closing ritual is the place where you can extinguish your fire. It's 20 minutes of getting off the table and gathering in the circle where you can touch and play with those who are in the inner circle, but not in the outer circle. Always check with yourself where would you feel comfortable.
LOCATION:
You will receive clear instructions two or three days before the event commences. Parking is available on request. The nearest Station is Canons Park 5 min of walk.
BRING:
Please bring a towel, the rest is provided. I used to ask all participants to wear ankle socks to prevent slips and trips, but I leave you to decide.
RATES:
The full price is £40 for 6 participants, reduced is £20 for 2 or more participants. I will not open reduced tickets unless you send me a request without explanation. If you want to pay in cash or Bank Transfer please email or WA me.
REFUND & CANCELLATION:
If we don't get 4 participants – the event will be cancelled and you get a full refund. Max group is 8 people.
DURING BREAKS AND SHOWERS:
Snacks, bottled water and all materials are provided.
PRECAUTIONS:
If you feel unwell, have any symptoms of STI, STD, Covid, monkeypox, and many so on… like fever or something isn't right, please let me know. I am not a medical, but happy to discuss. Based on the previous conversations with the group, most regulars understand the risk of transmitting bacteria and viruses due to close physical contact.
This event isn't for you: 1) you are not feeling comfortable naked around other men; 2) you are looking for a highly sexual/erotic experience; 3) have any fear around passing on any bacteria or virus; 4). you want to be served and don't want to give your best in the return; 5) not feeling comfortable touched by a man.
Please feel free to get in touch with me
WA 07857048570
Thank you,
Taras