Aidan Sadler's (fundraiser for their next show disguised as a) BIRTHDAY BASH
Aidan Sadler's (fundraiser for their next show disguised as a) BIRTHDAY BASH
October 21 @ 8:00 pm

-

9:30 pm

BST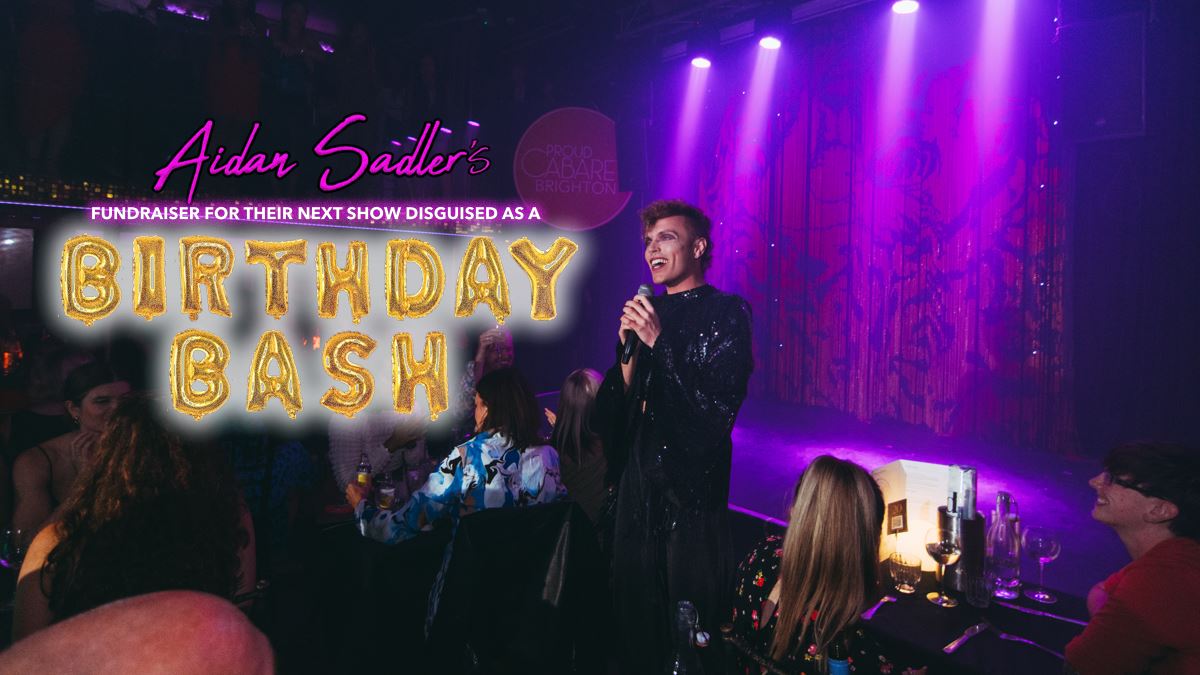 BIRTHDAY BASH 🎉
It's award-winning cabaret icon Aidan Sadler's birthday! And to celebrate it, they plan on singing some tunes, telling some jokes and inviting some special guests to perform with them! Come celebrate their annual ageing whilst also doing what Arts Council have failed to – funding their next show! Expect all the vibes of the MET Gala with all the budget of a MEAT raffle in this adequately chaotic night of cabaret!
Aidan Sadler
Aidan Sadler is an "absolute tornado of a cabaret star", changing the face of the cabaret industry. Described as a "Demonic David Bowie", they made their debut at Edinburgh Fringe 2021, where they went on to sell out, extend and win "Best Solo Act" at The Scene Alba Awards. Since this, Aidan has toured nationally, storming stages from Manchester to Brighton with their individual style of chaos – recently returning for another smash-hit Edinburgh run.
Aidan has moved into producing further work, having established their equal-stakes radical production collective, Weird Wood. Shows have included East-end residency Khaos (The K Hole), North London residency Weird Wood Presents… (Kings Head Theatre), Brighton based Residency Proud All Stars (Proud Cabaret), Brighton Spiegeltent and Assembly, with a trajectory that featured them in The Scotsman, The Times, Metro, Culture Fix and BBC – to name a few. Aidan is determined to platform queer and underrepresented voices into the mainstream, deviating away from the traditions forced by the drag industry and "that" TV show.
"Aidan brings an almighty euphoric energy to the fold" ★★★★★ (Culture Fix)
"A joy to watch" ★★★★★ (Lost in TheatreLand)
"Hugely entertaining" ★★★★★ (Sinner Reviews)
"Wow, just wow" ★★★★★ (Queer Scotland)
"A star and an impeccable party host" ★★★★ (Theatre Weekly)
"Their Stage Presence was enough to fill a theatre twice the size" ★★★★ (Binge Fringe)
"An absolute tornado of a cabaret star" ★★★★ (TheWeeReview)
"A name to watch out for" ★★★★ (Theatre & Arts Review)
"Aidan Sadler's comedy is relatable and amiably edgy" ★★★★ (Fringe Biscuit)
"Very cabaret. Very queer"★★★★ (EdFringeReview)